This week (4-10th July)
Trains are running on Sunday
Trains will be running on Sunday.
Trains depart Sittingbourne Viaduct station: 1pm, 2pm, 3pm & 4pm
Trains depart Kemsley Down station: 1.35pm, 2.35pm, 3.35pm & 4.45pm
The journey takes about 15 minutes.
Our return fares are:
Adult – £7.50
Senior Citizen – £6.50
Child (aged 3-15) – £3.50
Infants (aged under 3) – free
Family (2A + 4C) – £21
SKLR Members – free
Well behaved dogs – free
other fares are available.
Our next event: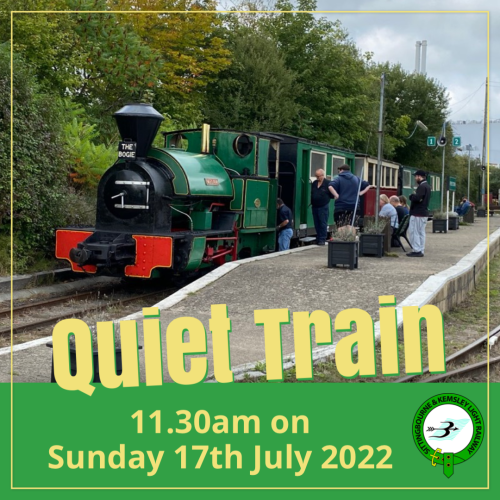 Tickets on sale now for the Quiet Train – it's at 11.30am, hauled by a diesel locomotive, returning with a steam locomotive at 12.35pm (or you can catch a later train back). It was originally intended to be booked by Swale Spectrum and Medway Puzzles members – who support families with ADHD or autistic children – the tickets are limited to just 50 passengers so it is not crowded.
This month at Sittingbourne's Steam Railway:
Next month (August):
Days shown is italics green should have Melior as the train locomotive.
Days shown underlined should have Premier as the train locomotive.
Days shown in black bold have two or more locomotives operating.
Days shown in plain black are currently unallocated to a particular locomotive.
Days shown in blue are Away Sales Events and not held at the Railway.