Wheels of Time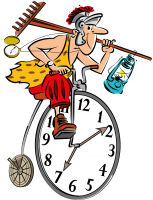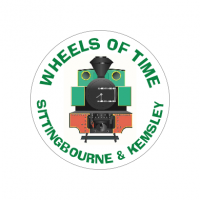 Wheels of Time is an initiative devised by Ashford Museum and is a  Kent Children's University quality assured activity.
It has been adopted by 48 museums and heritage centres across Kent and we are proud to have joined the initiative in 2017 as the first railway to be involved.
Children aged 5 to 11 years are invited to join Roamin Rex (left) to learn more about each heritage site where you progress through an activity to collect a unique badge for the venue. On collecting ten badges you earn a special Roamin Rex Award Badge. Our exclusive badge features a Bagnall steam locomotive (see above right).
If you are aiming to complete the Wheels of Time activity sheet during your visit, we recommend that you allow at least two hours for your visit. It may also be easier to complete the activity on a non-event day as there are other demands on your time, such as treasure hunts!
The Wheels of Time is free and at the Railway you can collect the activity sheets from the ticket office at Sittingbourne Viaduct station and hand them in for verification and to receive your badge at the shop at Kemsley Down. It is free to participate and you can keep up with the latest news about Wheels of Time through the newsletter, Facebook and Twitter.
There are eleven Wheels of Time sites in the borough of Swale, four in Sittingbourne, one in Milton Regis, five on the Isle of Sheppey and one in Faversham. So it is possible to attain your first Roamin Rex Award Badge without leaving the Borough!
Swale Wheels of Time sites:
Sittingbourne's Steam Railway – that's us!
The Old Forge Wartime House, Sittingbourne, ME10 4RT
Heritage Hub, Sittingbourne, ME10 3DL
Sittingbourne Heritage Museum, Sittingbourne, ME10 4BQ
Milton  Regis Court Hall, Milton Regis, ME10 2AN
Queenborough Guildhall, Isle of Sheppey, ME11 5AA
Rose Street Cottage of Curiosities, Isle of Sheppey, ME12 1AJ
Blue Town Heritage Centre, Isle of Sheppey, ME12 1RW
Minster Abbey Gatehouse, Isle of Sheppey, ME12 2HW
Eastchurch Aviation Museum, Isle of Sheppey, ME12 4DZ
Fleur de Lis Museum, Faversham, ME13 8NS
Further afield:
Agricultural Museum, Brook, Ashford, TN25 5PF
Ashford Museum, Ashford, TN23 1QG
Chiddingstone Castle, Edenbridge, TN8 7AD
Crabble Corn Mill, River, CT17  )uy
Cranbrook Museum, Cranbrook, TN17 3JX
Deal Maritime & Local History Museum, Deal, CT14 6BA
Dover Museum, Dover, CT16 1PH
Dover Transport Museum, Dover, CT16 2JX
Eden Valley Museum, Edenbridge, TN8 5AR
Elham Valley Railway Museum, Penne, CT18 8AZ
Folkestone's Fishing Heritage  & Museum, Folkestone, CT19 6AQ
Folkestone Museum, Folkestone, CT20 1DY
Fordwich Town Hall, Fordwich, CT2 0BD
Fort Amhurst, Chatham, ME4 4UB
Fort Luton, Chatham, ME4 5XJ
Guildhall Museum, Rochester, ME1 1PY
Huguenot Museum, Rochester, ME1 1LX
Hythe Local History Room, Hythe, CT21 6BG
Lashenden Air Warfare Museum, Headcorn, TN27 9HX
Lydd Town Museum, Lydd TN299HL
Maidstone Museum, Maidstone, ME14 1LH
Margate Museum, Margate, CT9 1ER
Medway Queen, Gillingham, ME7 1RX
RAF Manston History Museum, Ramsgate, CT12 5DF
RAF Spitfire & Hurricane Memorial Museum, Ramsgate, CT12 5DF
Ramsgate Tunnels, Ramsgate, CT11 8FH
Romney Marsh Wartime Collection, Brenzett, TN29 0EE
Royal Engineers Museum, ME7 1RX
Sandwich Guildhall Museum, Sandwich, CT13 9AH
The Seaside Museum, Herne Bay, CT6 5EJ
Sevenoaks Museum, Sevenoaks, TN13 1LQ
Tenterden Museum, Tenterden, TN30 6HN
Timeball Tower, Deal, CT14 7BP
Tudor House, Margate, CT9 1DA
Union Windmill, Cranbrook, TN17 3AH
Willesborough Windmill, Ashford, TN24 0QG
Woodchurch Village Life Museum, Woodchurch, Woodchurch, TN26 3RE