Donate & Support
Background
Sittingbourne's Steam Railway receives no external funding and relies upon ticket revenue, the Railway Shop, Away Sales and the Footplate Café to provide enough cash to keep the Railway operational each year. This money also pays for the maintenance of the Railway and, particularly, Milton Regis Viaduct, which has cost over £150,000 since the 1990s on a rolling programme of maintenance.
Since the Railway was forced to close in 2008, an SOS (Save Our Steam railway or Save Our SKLR) Campaign was launched to secure the future of the line. This successful campaign has seen the Railway saved for future generations and the Railway fully reopened between Sittingbourne Viaduct and Kemsley Down in 2012, with the first full season being operated in 2013.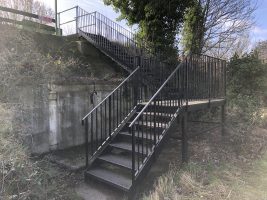 The closure hit Sittingbourne Viaduct hard, the station area was churned up and damaged by the pipeline removal contractors and then the  mill demolition contractors. Metal thieves removed items of track work. The buildings were repeatedly broken into and even lived in at one point and the perimeter fence damaged in multiple places – a very sorry sight. To enable reopening in 2012, a new footpath was laid between the ticket office and the platform and other improvements were beginning to be planned. The perimeter fence was repaired  but will need replacing at a cost of £20,000.  The main entrance  gates and the rail gates have been replaced thanks to a donation from the executors of the late Tony Nokes. The staircase from the ground level to the station level was built in 1969 for the opening of the railway and had seen better days, but we were able to replace this in December 2015.  There are no disabled facilities at the station and a new access ramp will be required. This could cost us in the region of £20,000.
Further vandalism occurred before we were able to secure the site and resulted in fire damage to both the staff mess room and the booking office. These have since been replaced by a steel container. We are indebted to Swale Borough Council who have given us grants towards the container and also for new signs to make the station more visible for passengers to find.
The station desperately needs increased security fencing, CCTV coverage, replacement of the existing platform, a new second platform, a new ticket office building, a new waiting room building, toilets etc. – everything we need to bring the station up to modern standards and expectations. The palisade fencing is almost complete with just a few sections to be fitted in 2020.
If we are going to make Sittingbourne Viaduct Station accessible, we will also have to make some improvements at Kemsley Down, including an upgrade or replacement of the toilet block to  cope with disabled visitors and also baby change facilities – this has mostly been completed, the toilet block was completely refurbished in 2018 and a new wheelchair accessible toilet building has been constructed and is being fitted out for the 2020 Season. We continue to work with Swale Borough Council on the future use of the former railway access to the long-gone Sittingbourne Paper Mill, which would provide step-free access between our car park and Sittingbourne Viaduct station.
SOS!
This is why we need your help, it is estimated that this work will cost in the region of £75,000, the Railway just can't afford such additional outlay, so this is another SOS – this time let's Sort Out Sittingbourne!
Please make a regular or one-off donation at www.justgiving.com/sklr – if you are a UK taxpayer please also add Gift Aid as that will add even more to your donation!
If you are a business and would like to donate some money or resources, please contact info@sklr.net – we're very keen to hear from anyone who:
manufactures solar/wind powered CCTV cameras
can carry out core samples at Sittingbourne Viaduct station and Milton Regis (Asda) Halt to see what the embankment is made of
help us with the improvements to the Railway, perhaps you have something  we can test for you!
Volunteering your time
It's not just your money we're after – it's your body too!
The Railway's band of active members needs bolstering to enable some of them to have time off, rather than being required to keep the Railway running, especially during August which has trains running 1-4pm every Wednesday and 11am-4pm every Sunday plus the bank holiday Monday – that's a big ask of our volunteers. We can provide tools and training for operational and maintenance tasks.
We have people at Kemsley Down several days a week but to make things a little easier for new volunteers we have:
Wednesdays – for maintenance of the track, gardens, carriages and wagons from about 10am-4pm and locomotive engineering in the evening
Saturdays – various teams carry out work at Kemsley Down from 10am-4pm
Sundays (and Wednesday's in August) – during the operating season we need staff to operate the Railway as well as maintain it, you will often find the track gang busy at work on the line or at Kemsley Down – this can be quite hard work and a great workout!
On a typical operating day during the season, we need the following roles to be filled:
Station Master, Sittingbourne Viaduct*
Assistant Station Master, Sittingbourne Viaduct
Booking Clerk, Sittingbourne Viaduct*
Station Master, Kemsley Down*
Assistant Station Master, Kemsley Down
Fireman*
Steam locomotive driver*
Diesel locomotive driver*
Locomotive cleaner (a trainee fireman role)
Guard*
Ticket Inspector
Sales person in the Railway Shop
2-3 people in the Footplate Café
*must be over 18 years of age
So that's 14-15 volunteers every operating day. When trains start running at 1pm, we have a Staff Train from Sittingbourne Viaduct station at 10am.
If you would like to offer your time for any of the roles listed above or have skills you think the Railway may benefit from, please email info@sklr.net and will find you something to do!
It must be noted that only members can be working volunteers, see this page for more information.