This week (22nd-28th October)
This weekend is a Work Weekend, this is when we carry out the jobs that we haven't been able to do during the season. We need your help with this because there are lots of the jobs to be completed! The Works Train will depart Sittingbourne Viaduct station at 10am, returning at 4pm.
Some of the tasks already underway include the replacement signs on the platforms at Kemsley Down, refurbishment of the toilet block, locomotive and carriage maintenance. Tools and training will be provided.
As the work is being carried out at Kemsley Down, lunch will be provided.
Also, this Saturday, the Away Sales Team will be attending the Whitstable Model Railway Exhibition.
Don't forget to check out our Weekly Newsletter which gives you even more news and information.
Have you booked your Santa Special yet? Click the link to see the availability and to find out how to book.
Membership is reasonably priced and covers your train fares for the whole season including Santa Specials in December – click here for more information so you need not pay the fares again!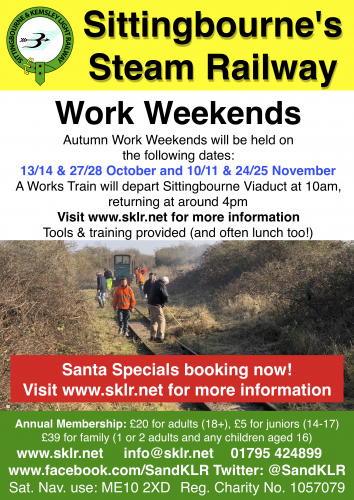 Here's what's going on this month:
Saturday 27th – Work Weekend – Works Train departs Sittingbourne Viaduct station at 10am, returning at around 4pm
Saturday 27th – Whitstable Model Railway Exhibition – Community College Whistable, Bellevue Road, Whitstable, CT5 1PX
Sunday 28th – Work Weekend – Works Train departs Sittingbourne Viaduct station at 10am, returning at around 4pm
Next month (November):