This week (11-17th September 2023)
It's not all about trains – Swale Vehicle Enthusiasts Club are going to be showing off their vehicles on Sunday!
The green timetable will be operating this Sunday afternoon with Swale Vehicle Enthusiasts Club visiting us to display their vehicles.
The locomotive will be Premier.
You can book tickets in advance (only 20 tickets are available, leaving plenty of space for turn up & go passengers) or just turn up 15 minutes before departure time to buy your tickets at the ticket office and you'll be good to go! We take cards and cash at the ticket office, Footplate Café and the Railway Shop.
Trains depart Sittingbourne Viaduct station: 1pm, 2pm, 3pm & 4pm
Trains depart Kemsley Down station: 1.35pm, 2.35pm, 3.35pm & 4.45pm
---
Pre-booking extended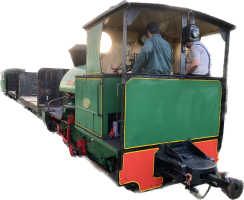 Due to popular demand, on the September Sundays we have made 20 seats per train bookable through our ticketing agent, TicketSource, only return fares are available although you can upgrade to a rover ticket at the ticket office when you check-in. Booking closes 5pm the day before travel.
Gala Weekend (30th September/1st October) has our most ambitious timetable for years operating which will see four locomotives hauling trains: Premier & Melior (steam) and Victor & Barton Hall (diesel). There will be a mix of single and double-headed trains throughout the day. The timetable is available to download on the Gala Weekend page.
There will be a special Experience Fare of £15 each for the first train each day which will involve a mixed passenger and freight train leaving Sittingbourne Viaduct station to Milton Regis (Asda) Halt where it becomes double-headed, steam & diesel, to Kemsley Down. This ticket will also be a rover ticket so you can travel on the other trains that day too and is only available online.
Return and Rover tickets are also available for purchase for both days of the Gala Weekend, they are not tied to a train but will speed up processing at the ticket office.
TicketSource will apply a booking fee to your booking – to book, click on the button below.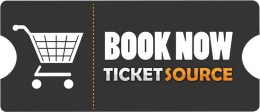 Return fares this Season are:
Adult – £8
Senior Citizen – £7
Child (aged 3-15) – £4
Infants (under 3) – free
Family (2 adults and up to 4 children) – £22
Please check our website, Facebook Page or Twitter (@SandKLR) before you leave home to make sure everything's going to plan. Also, please note that there are roadworks on the A249/M2 interchange which often closes the A249 between the M2/A249 roundabout and Sittingbourne – use real time journey planners, such as Google Maps, to check your route – our car park is at ME10 2XD or on what3words we are: format.fits.trains
---
Santa Specials on sale now
Tickets for our popular Santa Specials trains in December are on sale now at TicketSource. Priced at £15 for everyone aged over 3 and £10 for under 3s, the fare includes the round trip, children get a present from Santa and adults receive seasonal refreshments in the Footplate Café.
TIckets for the 11am and 2pm trains are available now. Tickets for the 12pm and 3pm trains will be released on 1st November once large group bookings (such as cubs, beavers and schools) have been booked onto these trains, so it is likely there will be limited availability on these trains. Large group bookers should email admin@sklr.net to make their reservation.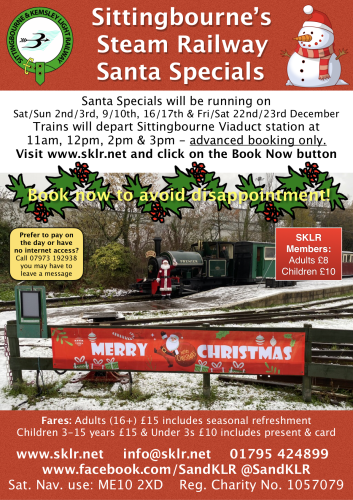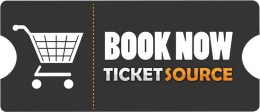 ---
Give us your time or money!
---
This month (September)
Next month (October)
On dates shown in Bold Underlined: trains will be hauled by steam locomotive Premier*
On dates shown in Bold Italics: trains will be hauled by steam locomotive Melior*
On dates shown in just Bold: trains will be hauled by two or more locomotives
On dates shown in plain text: we're not sure which locomotive will be operating today
* subject to availability, may be changed at short notice.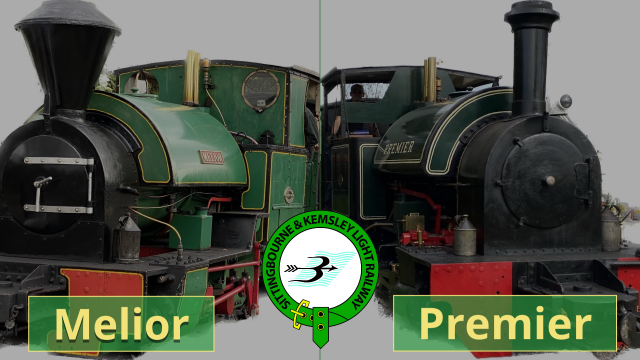 ---