Timetable launch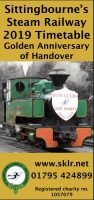 Sittingbourne's Steam Railway's 2019 timetable will be launched at the Tenterden Model Railway Exhibition this weekend, as well as being available to attendees of the Work Weekend.
You can download the leaflet now by clicking on the picture!
Engineering work at Kemsley Down prevents us from running Works Trains this weekend, we will be meeting at Sittingbourne Viaduct station at 10am as usual but will then go to Kemsley Down by car. If you require transport to Kemsley Down, someone will be there to give you a lift. Please email info@sklr.net to reserve you place in a car, so we know how many people to be ready for. You will be driven back to Sittingbourne Viaduct station at about 4pm. Lunch will be provided.