This week (24-30th June)
Trains depart Sittingbourne Viaduct station hourly 1-4pm this Sunday.
There's plenty to see and do at Kemsley Down too, particularly the Wheels of Time exercise for children, the museum, shop and Footplate Café so allow two hours for a relaxed visit. Trains return at 1.35pm, 2.35pm, 3.35pm and 4.45pm.
The Footplate Café now has air conditioning so if the breeze off Milton Creek isn't enough, you can cool down in the Café!
Return fares for the 2019 Season are:
Adults – £7
Concessions – £6
Children (aged 3-15) – £3.50
Children (under 3) – free
Family (2 adults and up to 4 children) – £20
Other fares are available such as rover and single tickets
Special fares apply for Steam & Beer.
Next weekend will be Steam & Beer (6th & 7th July). Click on the image below for the trailer.
We will have additional entertainment on Saturday and Sunday thanks to our friends at Project Kent Entertainment. Visit the Steam & Beer page for more information.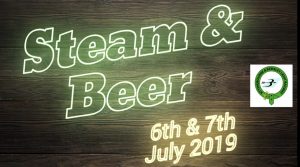 Don't forget to subscribe to our Weekly Newsletter, visit the Facebook Page or join the Facebook Group!
Find out about our latest fundraiser for our 50th anniversary – Premier Parts. Premier is now being reassembled ready for display at Gala Weekend in September.
This month (June):
Sunday 30th – ordinary timetable – trains will depart Sittingbourne Viaduct station hourly 1-4pm
Next month: