Milton Regis Viaduct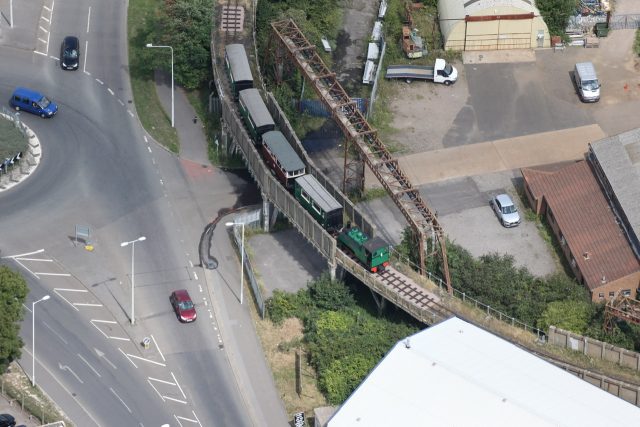 The century-old viaduct requires specialist maintenance every two years which is usually funded through fares, sales and catering at the Railway but this reduces the amount of money we can spend on other projects. The work costs £20,000 and has cost the Railway over £200,000 so far.
To help us fund Milton Regis Viaduct's maintenance, please visit our Just Giving page and mention 'Viaduct' in the comments box so the money goes to the right fund. Any sum, no matter how large or small, will help – perhaps donate your fare if you would have visited us by now.
The rest of this page looks at this wonderful structure and previous maintenance works carried out.
Milton Regis Viaduct
From the mural at the entrance or the name of the station in Sittingbourne, Milton Regis Viaduct is a key part of the Sittingbourne & Kemsley Light Railway. It is a lasting legacy of the industrial railway that once linked the paper mills at Sittingbourne and Kemsley to Ridham Dock.
At about a kilometre long, with six bridges and 118 spans, the reinforced concrete viaduct is iconic in narrow gauge railway heritage.
It is also showing its age – over 100 years standing astride or alongside Milton Creek (salt water) and suffering the battering of the wind, rain and trucks, Milton Regis Viaduct costs £20,000 every two years in specialist maintenance. The sections that have been repaired look as good as new but there's still a long way to go.
A few years ago, Kent County Council (KCC) lowered the road under Gas Road Bridge to enable more and taller trucks to serve a new industrial estate on the site of the former Milton Pipes works. During construction, there was an extended period of road closures resulting in lorries having to use the skew bridge, a bridge closer to Sittingbourne Viaduct station. This bridge, despite being sign posted as lower than Gas Road, was struck by numerous trucks and trailers which caused severe damage to the underside of the bridge.
KCC paid for the repair work to Gas Road Bridge and the Railway paid for the repairs to the skew bridge, with its neighbours agreeing to part block the road to prevent trucks from attempting to drive under the bridge.