This week (15th-21st July)
Trains will be running on Sunday this weekend, departing Sittingbourne Viaduct station at 1pm, 2pm, 3pm and 4pm. Trains return from Kemsley Down at 1.35pm, 2.35pm, 3.35pm and 4.45pm. The journey takes 15 minutes each way.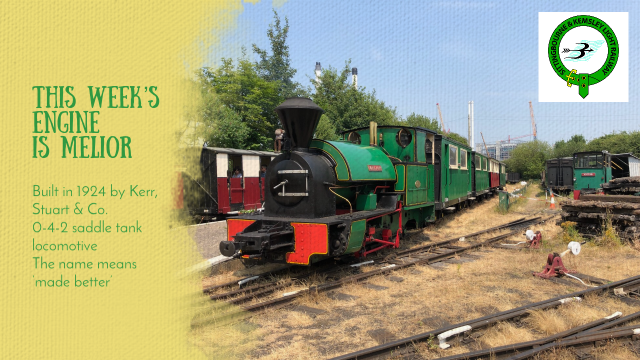 The locomotive should be Melior. This was the fourth Brazil Class locomotive to arrive at the Railway back in 1924, however, unlike the others, was fitted with Hackworth design valve gear (Wikipedia link) – this is the red bar device, at the cab-end, that goes up and down when the locomotive is moving, regulating the amount of steam that goes into the pistons.
There's plenty to see and do at Kemsley Down too, particularly the Wheels of Time exercise for children, the museum, shop and Footplate Café so allow two hours for a relaxed visit.
The Footplate Café now has air conditioning so if the breeze off Milton Creek isn't enough, you can cool down in the Café!
Return fares for the 2019 Season are:
Adults – £7
Concessions – £6
Children (aged 3-15) – £3.50
Children (under 3) – free
Family (2 adults and up to 4 children) – £20
Other fares are available such as rover and single tickets
Don't forget to subscribe to our Weekly Newsletter, visit the Facebook Page or join the Facebook Group!
Find out about our latest fundraiser for our 50th anniversary – Premier Parts. Premier is now being reassembled ready for display at Gala Weekend in September.
This month (July):
Sunday 21st – ordinary timetable – trains will depart Sittingbourne Viaduct station hourly 1-4pm
Sunday 28th – ordinary timetable – trains will depart Sittingbourne Viaduct station hourly 1-4pm
Wednesday 31st – ordinary timetable – trains will depart Sittingbourne Viaduct station hourly 1-4pm
Next month: