This week and a bit (10-17th April)
Toot! Toot! Trains start running from Friday as we launch into the 2017 Season and we are excited to announce our participation in the Wheels of Time scheme developed by Ashford Museum and Kent Childrens' University.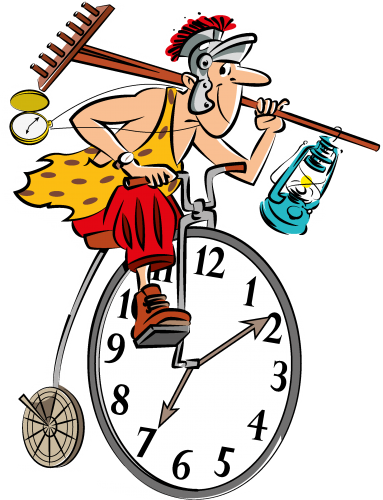 The Wheels of Time initiative encompasses 25 museums and heritage sites (we're the only railway) across Kent, encouraging children aged between 5 and 11 to visit museums and heritages and follow Roamin' Rex's map to learn more and earn an exclusive badge at each location. After collecting 10 badges they claim a Roamin Rex's Bronze Award Badge and a Silver Award for 20 different museums/heritage sites. There is no additional charge, just the usual fare to travel on the Railway.
Activity sheets are collected from the Ticket Office at Sittingbourne Viaduct and returned to Shop at Kemsley Down for verification and to collect the Railway's unique badge.
Look out for Roamin' Rex (pictured left) at four other museums in Sittingbourne and Milton Regis – click here for more information.
Steam locomotive Melior will be hauling trains all four days this weekend. Look out for our daily Tweets (@SandKLR) and Facebook updates as we countdown to Four Days of Steam.
Work continues on projects throughout the year, to offer assistance please email volunteer@sklr.net
Don't forget that we are currently raising money to buy stays for steam locomotive 'Premier' and our second podcast of the new series – Sittingbourne's Steam Railway Podcast is available here, at iTunes or You Tube. The best way to listen to it is through the Sittingbourne's Steam Railway Podcast App which is available from your app store – you will receive bonus features too; such as monthly calendar pages and videos.
You can now download our timetable leaflet – SKLR Timetable 2017.
This month (April):
Sunday 23rd – trains depart Sittingbourne Viaduct station hourly 1-4pm
Sunday 30th – Jack the Station Cat and Edward Bear Weekend – trains depart Sittingbourne Viaduct station hourly 11am-4pm – there will be a mouse hunt at Kemsley Down plus other activities for children
Next month:
Monday 1st – Jack the Station Cat and Edward Bear Weekend – trains depart Sittingbourne Viaduct station hourly 11am-4pm – there will be a mouse hunt at Kemsley Down plus other activities for children. A new Jack the Station Cat book will be launched at the Railway on this day of the event
Sunday 7th – trains depart Sittingbourne Viaduct station hourly 1-4pm
Sunday 14th – trains depart Sittingbourne Viaduct station hourly 1-4pm
Sunday 21st – trains depart Sittingbourne Viaduct station hourly 1-4pm
Sunday 28th – Teddy Bears Picnic – trains depart Sittingbourne Viaduct station hourly 11am-4pm – children with teddy bears travel free
Monday 29th – trains depart Sittingbourne Viaduct station hourly 11am-4pm