This week (6-12th August)
This month, trains will be running every Wednesday 1-4pm and Sunday 11am-4pm.
The bank holiday weekend (26-27th August) sees Ivor the Engine return to the Railway.
Don't forget to check out our new Weekly Newsletter which gives you even more news and information.
Bookings for Santa Specials are now open – book early to avoid disappointment! 🎅🏻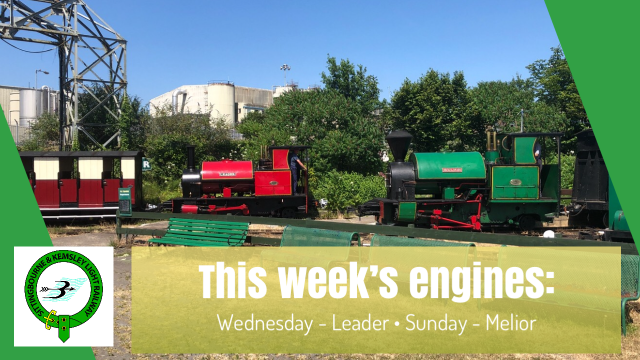 Return fares for 2018 are:
£7 adults
£6 concessions
£3 children aged 3-15
Under 3s go free
£19 family tickets (2 adults and up to 4 children)
Special fares apply for Santa Specials in December
Membership is reasonably priced and covers your train fares for the whole season including Santa Specials in December – click here for more information so you need not pay the fares again!
Here's what's going on this month:
Wednesday 8th – trains depart Sittingbourne Viaduct station hourly 1-4pm
Sunday 12th – trains depart Sittingbourne Viaduct station hourly 11am-4pm
Wednesday 15th – trains depart Sittingbourne Viaduct station hourly 1-4pm
Sunday 19th – trains depart Sittingbourne Viaduct station hourly 11am-4pm
Wednesday 22nd – trains depart Sittingbourne Viaduct station hourly 1-4pm
Sunday 26th – Ivor the Engine Weekend – trains depart Sittingbourne Viaduct station hourly 11am-4pm
Monday 27th – Ivor the Engine Weekend – trains depart Sittingbourne Viaduct station hourly 11am-4pm
Wednesday 29th – trains depart Sittingbourne Viaduct station hourly 1-4pm
Next month (September):
Sunday 2nd – trains depart Sittingbourne Viaduct station hourly 1-4pm
Sunday 9th – trains depart Sittingbourne Viaduct station hourly 1-4pm
Sunday 16th – trains depart Sittingbourne Viaduct station hourly 1-4pm
Sunday 23rd – trains depart Sittingbourne Viaduct station hourly 1-4pm
Saturday 29th – Gala Weekend – trains depart Sittingbourne Viaduct station hourly 11am-4pm
Sunday 30th – Ivor the Engine Weekend – trains depart Sittingbourne Viaduct station hourly 11am-4pm
Wednesday 29th – trains depart Sittingbourne Viaduct station hourly 1-4pm