This week (26th October – 1st November)
There are no events planned for this weekend, although our press officer, Paul Best, will be interviewed live on
BRFM
, the community radio station for the Isle of Sheppey and Swale, on Monday 2nd November from 7pm. This will be broadcast on 95.6FM as well as on the Internet through their
webpage
or radio players such as
TuneIn Radio
.
One of the subjects that Paul will be discussing with Daniel, the host of the programme, will be Santa Specials – as you can see below, one train is already fully booked and others are filling fast.
The next
Work Weekend
will be 7/8th November. Last weekend's Work Weekend at Sittingbourne Viaduct station was very successful and the station's appearance has been improved. In the New Year, contractors for The Mill Project, Sittingbourne's Skate Park, will be replacing the boundary fencing which will enhance the station further.
Key dates in November:
The Railway reopens in December for the very popular
Santa Specials
– the train will whisk you from Sittingbourne Viaduct station to Kemsley Down where Santa and Mrs Christmas meet the train and lead everyone to the Footplate Café where hot drinks and seasonal refreshments will be given to the adults and older children whilst the younger children visit Santa's Grotto where they will be able to speak to Father Christmas before choosing a quality toy from a wide selection exclusive only to the grotto – these toys will not be available to purchase in the Railway Shop. After Santa has been visited and the season refreshments consumed, there is time to explore Kemsley Down before the train returns to Sittingbourne Viaduct.
Trains depart Sittingbourne Viaduct at 11am, 12pm, 2pm & 3pm on:
Saturday 5th December*
Sunday 6th*
Saturday 12th
Sunday 13th
Saturday 19th – 11am train fully booked
Sunday 20th
Monday 21st
The fares are the same as last year:
£12.50 for over 13s and adults – includes seasonal refreshments
£12.50 for children aged 3-13 – includes a present from Santa
£9.50 for children aged under 3 – includes a present from Santa
*There is an early Christmas present of discounted fares on the first weekend of December – up to £1.50 off all fares!
SKLR
Members
can save even more because they already have free travel on the Railway – see the New Bogie magazine or call the Booking Hotline for details.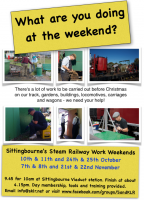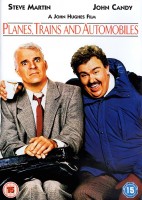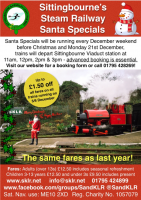 Edited with BlogPad Pro