This week (19-25th October)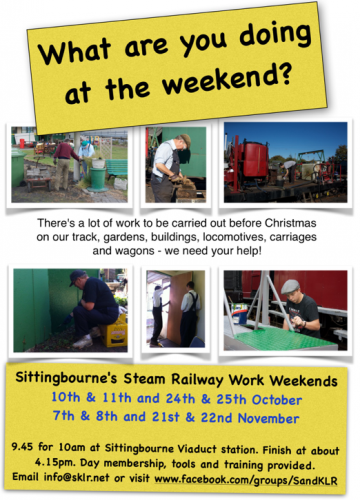 This weekend is the second in the series of four Work Weekends ahead of the Santa Specials in December. This weekend we will be based at Sittingbourne Viaduct station between 10am and 4pm working on the boundary fence with our new neighbours – Sittingbourne Skate Park.
This is the first step for the creation of the new Skate Park on the former Sittingbourne Paper Mill wharf site and will see the preparations for our new disabled access which we hope to open in time for the 2016 Season at Easter.
Everyone's welcome to come along and help – see the Work Weekends page for more information.
There will be two more Work Weekends in November which will be based at Kemsley Down.
Key dates in November:
The Railway reopens in December for the very popular
Santa Specials
– the train will whisk you from Sittingbourne Viaduct station to Kemsley Down where Santa and Mrs Christmas meet the train and lead everyone to the Footplate Café where hot drinks and seasonal refreshments will be given to the adults and older children whilst the younger children visit Santa's Grotto where they will be able to speak to Father Christmas before choosing a quality toy from a wide selection exclusive only to the grotto – these toys will not be available to purchase in the Railway Shop. After Santa has been visited and the season refreshments consumed, there is time to explore Kemsley Down before the train returns to Sittingbourne Viaduct.
Trains depart Sittingbourne Viaduct at 11am, 12pm, 2pm & 3pm on:
Saturday 5th December*
Sunday 6th*
Saturday 12th
Sunday 13th
Saturday 19th – 11am train fully booked
Sunday 20th
Monday 21st
The fares are the same as last year:
£12.50 for over 13s and adults – includes seasonal refreshments
£12.50 for children aged 3-13 – includes a present from Santa
£9.50 for children aged under 3 – includes a present from Santa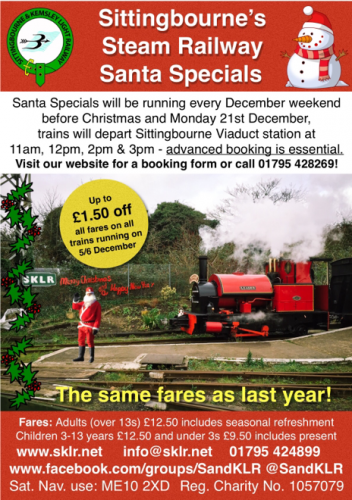 *There is an early Christmas present of discounted fares on the first weekend of December – up to £1.50 off all fares!
SKLR
Members
can save even more because they already have free travel on the Railway – see the New Bogie magazine or call the Booking Hotline for details.
The Santa Specials Booking Hotline is open now – call 01795 428269 or download a booking form from the Santa Specials page of this website.
Click on coloured text to see more information.
Edited with BlogPad Pro