This week (19-25th June)
Trains are running to the normal (green) timetable on Sunday which means that trains will depart Sittingbourne Viaduct station hourly 1-4pm.
There are no special events this month because we are preparing for Steam & Beer on 1st & 2nd July. Trains will be running from 11am on both days until about 10pm on Saturday and 5pm on Sunday – more details of the provisional beer list, train times and the special fares that apply for this event can be found here.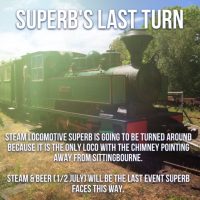 It is expected that Steam & Beer will be the last time steam locomotive Superb runs 'the wrong way around' and that the engine will appear at Gala Weekend (at the end of September) with the chimney pointing towards Sittingbourne, the same as the other steam locos. This is an unusual occurrence that is unlikely to be repeated for some time so come down and get photos of her the wrong way round!
Return fares for 2017 are:
Throughout the Season, children aged between 5 and 11 can participate in The Wheels of Time which involves completing an activity sheet to receive a badge unique to the Railway, there are badges to collect at 24 other heritage sites around Kent, four are close to the Railway.
Work continues on projects throughout the year, to offer assistance please email volunteer@sklr.net
Don't forget that we are currently raising money to buy stays for steam locomotive 'Premier' and the fourth podcast of the new series – Sittingbourne's Steam Railway Podcast is available here, at iTunes or You Tube. The best way to listen to it is through the Sittingbourne's Steam Railway Podcast App which is available from your app store – you will receive bonus features too; such as monthly calendar pages and videos.
You can now download our timetable leaflet – SKLR Timetable 2017.
This month (June):
Sunday 25th – trains depart Sittingbourne Viaduct station hourly 1-4pm
Next month:
Saturday 1st – Steam & Beer – trains will depart Sittingbourne Viaduct station regularly between 11am and 10pm
Sunday 2nd – Steam & Beer Family Day – trains will depart Sittingbourne Viaduct station regularly between 11am and 5pm
Saturday 8th – Rail Gala Weekend – Amberley Museum & Heritage Centre, West Sussex
Sunday 9th – Rail Gala Weekend – Amberley Museum & Heritage Centre, West Sussex
Sunday 9th – trains depart Sittingbourne Viaduct station hourly 1-4pm
Sunday 16th – trains depart Sittingbourne Viaduct station hourly 1-4pm
Sunday 23rd – trains depart Sittingbourne Viaduct station hourly 1-4pm
Wednesday 26th – trains depart Sittingbourne Viaduct station hourly 1-4pm
Sunday 30th – trains depart Sittingbourne Viaduct station hourly 11am-4pm