This week (16th-22nd May)
It's Three Brazils Weekend!
Trains will be departing Sittingbourne Viaduct station every 40 minutes from 11am on Sunday, hauled by one of our three Brazil class locomotives – Premier, Leader or Melior.
This will be your last opportunity to travel behind Leader for a while as the loco is retiring from service for a major overhaul but it will also be your first opportunity to travel behind Premier (which retired in 1996 for a major overhaul). Full details of the timetable can be found here.
There will be a bar at Kemsley Down, provided by our friends at The Yellow Stocks micro put in Sittingbourne High Street.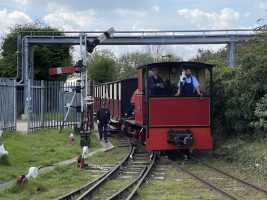 Trains depart Sittingbourne Viaduct station: 11.00am, 11.40am, 12.20pm, 1pm, 1.40pm, 2.20pm, 3pm, 3.40pm and 4.20pm
Trains depart Kemsley Down station: 11.20am, 12pm, 12.40pm, 1.20pm, 2pm, 2.40pm, 3.20pm, 4pm, 4.40pm
The journey takes about 15 minutes.
Premier is green italics, Leader is red bold and Melior is green underlined
The journey takes 15 minutes.
Our return fares are:
Adult – £7.50
Senior Citizen – £6.50
Child (aged 3-15) – £3.50
Infants (aged under 3) – free
Family (2A + 4C) – £21
SKLR Members – free
Well behaved dogs – free
other fares are available.
Please be aware that the M2 motorway is closed between Sitingbourne and Faversham (Junctions 5 to 6/7) in the coast bound direction all weekend this weekend. The recommended diversionary route is hideously long so we expect people will be diverting on to the A2 and driving through the towns. If you are coming to the Railway from the A249 or A2, we recommend approaching Sittingbourne via Bobbing and Staplehurst Road. You can see a map here or the video here.
This month at Sittingbourne's Steam Railway:
Sunday 22nd – Three Brazils Weekend – special timetable applies – Premier, Leader & Melior will be operating throughout the day – Leader's last day in service and Premier's first!
Sunday 29th – Green timetable – Trains depart Sittingbourne Viaduct station hourly 1-4pm
Next month (June):
Days shown is bold red should have Leader as the train locomotive.
Days shown is italics green should have Melior as the train locomotive.
Days shown in black bold underlined have two or more locomotives operating.
Days shown in blue are Away Sales Events and not held at the Railway.