Queen's Platinum Jubilee Weekend (Thursday 2nd – Sunday 5th June)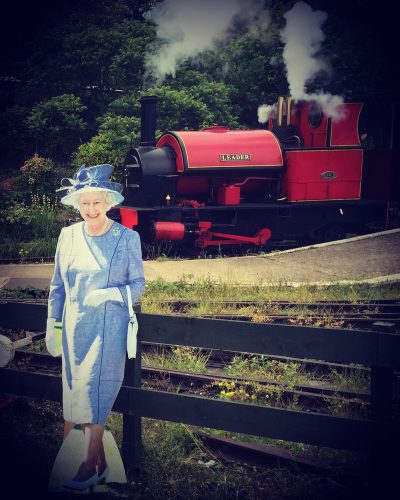 We'll be getting the bunting out and posing for selfies with our cardboard cut-out to celebrate HM The Queen's Platinum Jubilee Weekend.
Trains will be running to the orange timetable all weekend with trains being hauled by Melior as Leader retires in May.
On Thursday evening we will be holding a special event – our first Fish & Chips Supper. This will be a pre-booked event due to the restricted passenger numbers we will be carrying. The train to Kemsley Down will depart Sittingbourne Viaduct station at 6pm.
On Saturday and Sunday we'll be holding Edward Bear's Teddy Bears Picnic so feel free to bring a picnic along or buy drinks and snacks at the Footplate Café.
Timetable
Trains depart Sittingbourne Viaduct station at 11.35am, 12.35pm, 2pm, 3pm & 4pm – note: there is no 1pm train
Trains depart Kemsley Down station at 12.05pm, 1.35pm, 2.35pm, 3.35pm & 4.45pm – note: there is no train between 12.05pm and 1.35pm back to Sittingbourne Viaduct
The journey takes 15 minutes
Fares
£7.50 for adults
£3.50 for children (3-15)
Infants aged under 3 travel free
£6.50 for senior citizens
£21 for families (2 adults and 4 children)