Sittingbourne's Steam Railway granted £26,500 from the Culture Recovery Fund for Heritage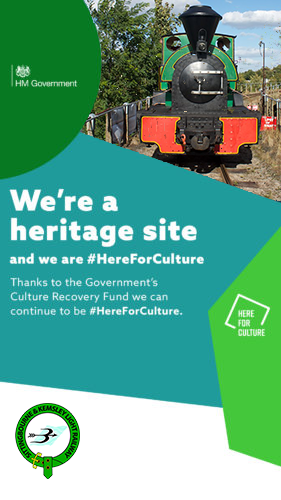 The Sittingbourne & Kemsley Light Railway has been granted £26,500 from HM Government's £1.57billion Culture Recovery Fund for Heritage, the biggest fund in UK history and the largest single grant we have ever received.
The Culture Recovery Fund is a historic investment in all kinds of culture, in all communities, to help the sector recover from coronavirus.
Culture creates jobs, supports livelihoods, and brings joy to everyone. The UK leads the world in the creative industries and we can all feel pride in that.
Now, in these challenging times, it's our turn to show our support for culture. With an unprecedented investment through the £1.57bn Cultural Recovery Fund, the government is #HereForCulture so it can weather the storm of coronavirus and come back stronger.
And we are #HereForCulture too.
#HereForCulture is a movement that unites the public, government and cultural organisations in support of our fantastic cinemas, theatres, music venues, museums, galleries and heritage.
We want people to make sure that where they are able to visit local culture venues in their communities, they do so in a covid secure way. Plus, with more and more culture being curated online, there is no better time to support and enjoy all the new and exciting ways culture is available to us.
By being #HereForCulture, we aren't just supporting the people in the industry, we're also supporting communities across the country.
So, what are we going to do with the money?
For many years, certainly since the closure of the Sittingbourne Paper Mill and because of various vandalism and arson attacks, we have been fundraising to improve Sittingbourne Viaduct station. We now have the money to take forward some of our planned works, introducing Project Sittingbourne.
Almost £10,000 has already been invested in new palisade fencing between the station site and the Skatepark/former mill. Additional security measures will be installed to prevent further vandalism and improve the visitor experience.
COVID-19 has changed the way we operate Sittingbourne Viaduct station and we have noticed the 23-step steel stairways is a major pinch point, making social distancing difficult. We will be working with our neighbours to deliver a second entrance to the station which will give us the long-term benefit of providing disabled access.
Another issue when arriving or working at the station is the lack of hand-wash facilities and toilets. Hand gel only goes so far, it will be reassuring to provide proper hand wash and toilet facilities at the station, with wheelchair accessible toilets like the one at Kemsley Down.
When is it happening?
We must deliver these improvements by the end of March 2021.
Check out our Facebook Page, Facebook Group and Twitter account for more graphics and a short video.
Once again, we thank the Department for Digital, Culture, Media and Sport, the National Lottery Heritage Fund and Historic England. Also a big thank you to Paul Williams, Liz Fuller and John Fuller who developed the winning bid.
#HereForCulture